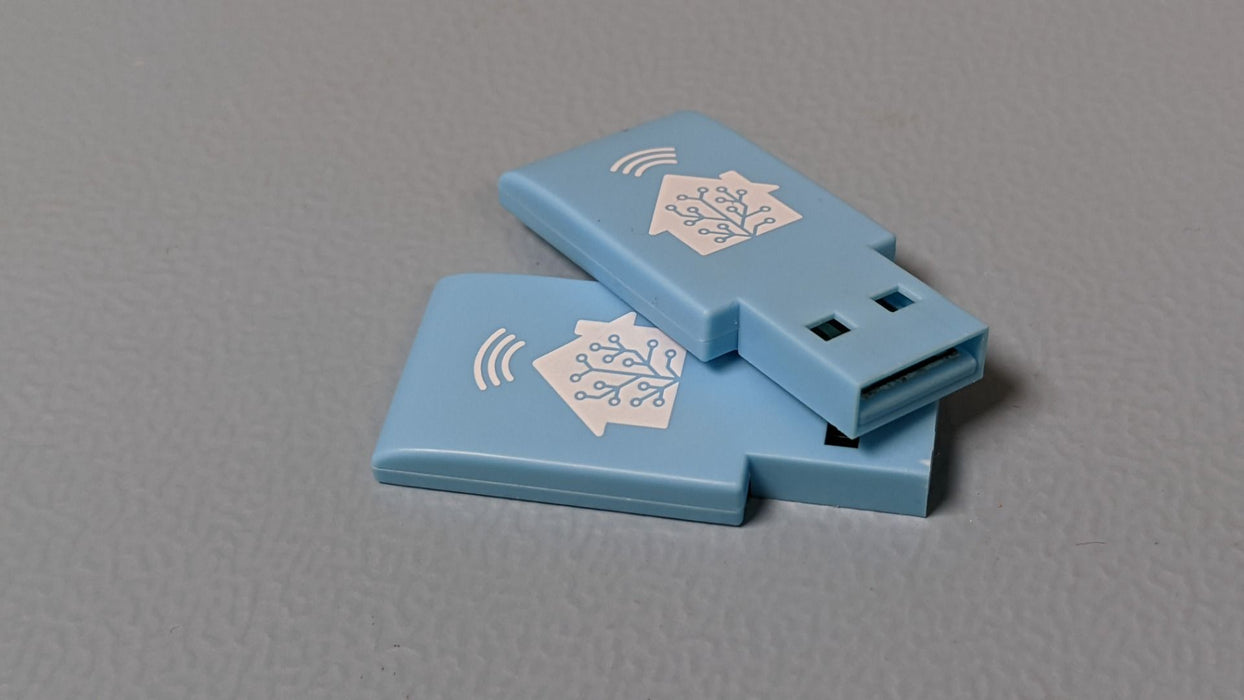 Home Assistant SkyConnect USB Stick - compatible with Zigbee/Thread/Matter, ideal for Smart Home
Save

£2.50
Save

£2.50
Original price
£32.50
-
Original price
£32.50
Zigbee/Matter/Thread USB Stick for Home Assistant
The Home Assistant SkyConnect is designed to be a perfect match for Home Assistant Users. The device provides an easy connection with Zigbee and will support Matter specifications in the future with a firmware update from Home Assistant. The product supports Over-The-Wire (OTW) Firmware Update via the USB interface, which allows easy and quick firmware updates for both protocols. The device is an EFR32 Series 2 (Silicon Labs EZSP v8) adapter that will transmit at a power of +20 dBm. The drive supports full-speed USB 2.0 when plugged into the included USB extender.
The hardware is based on a Silicon Labs EFR32MG21 SoC with an IEEE 802.15.4 multi-protocol 2.4GHz radio MCU that is capable of concurrently running both Zigbee 3.0 (EmberZNet/EZSP) and Thread (OpenThread/Spinel inc. Matter/CHIP over Thread) stacks/protocols at the same time by using firmware in RCP RCP (Radio Co-Processor) mode. Direct local serial communication will be done via an onboard USB-to-UART bridge/converter (presumably a chip in Silicon Labs CP210x series).
Home Assistant will provide an Addon that will contact the Ember Stacks for Zigbee and Matter. Home Assistant will provide updates to the firmware on a consistent basis that will provide the best user experience from a Zigbee/Matter Adapter. The USB Stick will be Plug and Play, tightly integrated with the Zigbee Home Automation integration allowing for a beginner-friendly experience. For more information, please stay tuned for updates on Home Assistant website and our discord Home Assistant channel.