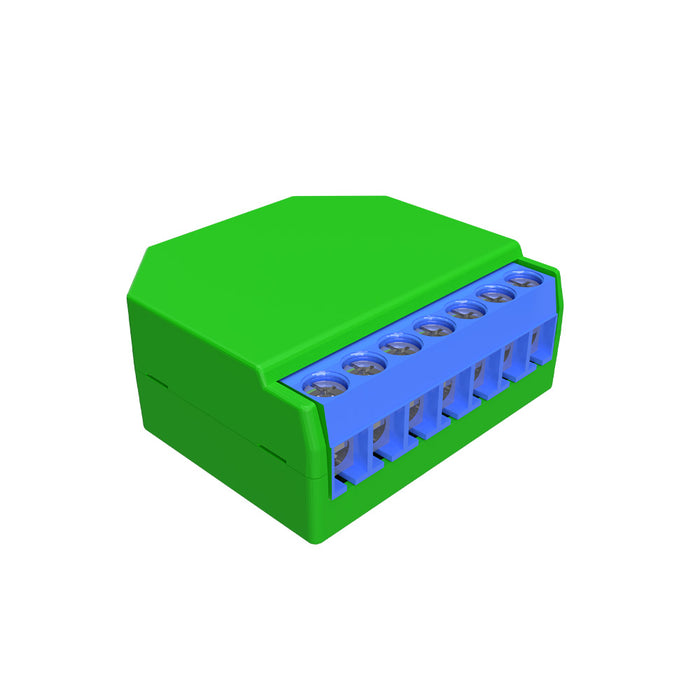 Shelly Dimmer 2
Save

£0.00
Save

£-31.99
Original price
£0.00
-
Original price
£0.00
Control and dim a wide range of halogen lights, dimmable LED bulbs and ferromagnetic transformers.
Shelly Dimmer 2 has been developed to be able to cover all possible electrical installations all over the world. Shelly Dimmer 2 can be used in houses where the neutral line is missing and provide a full set of dimming functionalities.

Wireless
No HUB required – Connect Shelly Dimmer 2 directly to your Wi-Fi at home.

On/Off and Dimming Functionality
Turn lights on and off, or use the dimming functionality to adjust the brightness of your lights.

No Neutral Required
Power on the device and control your light, fan, or other appliances only by Live wire, no neutral required to be connected to the device.

Control Remotely with Free Shelly Cloud
Control your Shelly remotely using a smartphone and the free Shelly Cloud.

App & Smart Hub Integration
Turns lights on and off from the Shelly app, or control your appliance with your voice with Amazon Alexa and Google Assistant integration.

Overheating Protection
In case of high temperature Shelly will switch OFF the output to protect itself and your home appliances.

Wide Range of Voltage Support
Shelly Dimmer 2 can be used with a variety of light bulbs.

Schedule
Schedule your lights to turn on and off automatically.

REST API & MQTT Support
Integrate Shelly with your existing home automation system.

Smart Home Compatible
Integrate Shelly with Amazon Alexa, Google Assistant and Home Assistant.
You can also download the Shelly app from Google Play and the App Store.
---
Resources:

---
Specification:
POWER
Power supply AC
110-230V ±10%, 50/60Hz
SPECIAL FUNCTIONS
Device temperature protection
Yes
Overload protection
Yes
Power measurement
Yes
Dimming
Yes
Dimmable LED
50-200VA / 10W – 200W
Incandescent and halogen light sources
10-220W
Resistive-inductive loads ferromagnetic transformers
50-150VA
Working without a neutral line
Yes
FEATURES
Colour changing
No
Predefined effects
Yes
Channels
1 Channel
Operational temperature
0 to + 35 °C
Device power consumption
< 1 W
Intelligent On/Off
Yes
Local and remote control
Yes
Sunrise/Sunset
Yes
Weekly Schedule
Yes
UL Listed option
No
CONNECTIVITY
Wireless/WiFi Protocol
802.11 b/g/n
Radiofrequency
2400 – 2500 MHz
Radio signal power
1mW
Range
up to 50 m outdoors and up to 30 m indoors (depending on the building materials)
DIMENSIONS
Size
42mm x 36mm x 14 mm